Within the last three days we have gotten about 5 inches of snow. I have really missed snow but I didnt realize it until it was back. I love it before the plows get a hold of it and the snow turns to this brown goop.
The view out of our bedroom, it really doesnt get better then that.
Well it gets a little bit better, in my efforts to prove my wonderful husband wrong I have started cooking again. I have raved about how I make a good meatloaf, well I didnt have the recipe I usually use so I found a different recipe that turned out pretty dang good.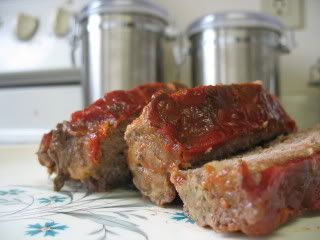 1 beaten egg
1 slice of whole wheat bread (or white bread if you prefer) tear into pieces
1/4 cup milk
1/2 of a medium onion finely chopped (we prefer bigger chunks so we just chopped the onion)
2oz can of mushrooms drained
1/2 tsp of dried thyme
1/2 tsp salt
1/4 tsp pepper
1 pound of ground beef
catchup to top
1. Combine all ingredients but the catchup in a large bowl ( I usually do this by hand you could use a spoon I suppose if touching raw meat isn't your thing)
2. pat mixture in a a loaf pan
3. Bake at 350 degrees. Bake the loaf for 45-50 minutes. When finished baking smoother catchup on the meatloaf place back in the oven for another 5-10 minutes.
Makes 4 servings.
This meatloaf makes a great leftover and is wonderful for meatloaf sandwiches.